While at first slots and table games were the only games that were brought on the internet, many quickly followed. Bingo, scratchcards and keno are some of the games that were introduced online, too.
And slots and table games became much more improved. Filled with special features, side bets and even jackpots, these games were really on fire. But then, something else happened. As they could not enhance table games furthermore, developers needed to do something else. Something that would change the entire concept of online gambling. And that's when they coined the Live Casino concept. It essentially meant streaming table games from either real land-based casinos or special studios tailored to look like ones. This is what revolutionized gambling for good.
Best Mobile Live Casinos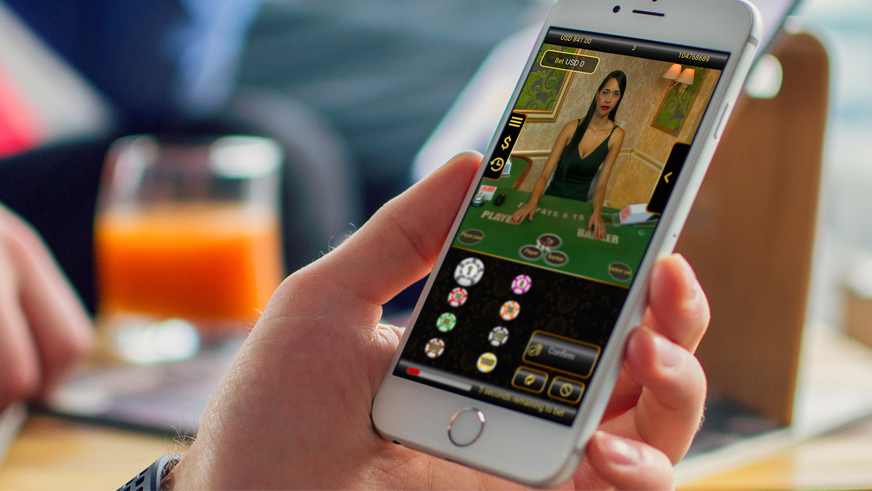 In the meantime, computer geeks responsible for the software and compatibility of the games made landmark steps, too. Seeing that people cannot separate from their mobile devices, not even for a second, they had act quickly. They needed to adapt Live Casino games to be perfectly compatible with mobile devices. The games needed to perform impeccably, with no interruptions and no problems, on any mobile device. The interface needed to be adjusted to any device, both desktop and mobile. The important buttons needed to be easily accessible and visible.
And of course, they managed to do all of that. That's why today you can enjoy Live Casino on mobile, wherever you go, whenever you want. Developers make sure that their games run smoothly on any Android and iOS device, be it desktop or mobile. You just need to have a good, stable internet connection and you're good to go. Being able to play at your office, at home, at your friend's house or anywhere else is a great advantage. Bringing Live Casino to mobile devices was, therefore, one of the best moves that developers could make.
Live Casino on Mobile Devices
Those of you who have never tried playing Live Casino games on your mobile devices, you probably have questions. And if you're reading this, you are probably hoping to find the answers.
The most frequently asked question is: whether Live Casino functions on any mobile device. Yes they do, but there are some things that we need to explain. Regardless of the operating systems, even though Android and iOS are most popular, you can play via your browser.
Developers have created many in-browser solutions that can help you access Live Dealer games from any device. This is mostly thanks to the adoption of the HTML5 format for creating their games. But if your mobile device runs on iOS or Android, you have other solutions. While you can still play games via browsers, you can also download Mobile Live Casino apps. You can get these apps for free. The games in these apps use the latest interface and provide you with an amazing mobile gambling experience.
Mobile Live Casino Games Choices
While most developers have already launched their mobile Live Casino solutions, others still struggle with abnormalities. In terms of choice, don't expect to find all possible Live Casino games by all developers on your mobile device. Evolution is the only developer who has adapted almost all of its games for mobile play. And the only developer who offers the biggest game choice of mobile Live Dealer games. And while there are other developers whose games are available on mobile, they don't offer as many games as Evolution. The developer that struggles with the mobile compatibility of its games the most is Playtech. Although it can compete with Evolution in terms of choice, not all of its games are playable on mobile devices.
For instance, Extreme Live Gaming and Lucky Streak only offer Baccarat, Roulette and Blackjack on mobile devices. NetEnt only Blackjack and Roulette, and Authentic Gaming solely Roulette. The biggest competitors Evolution and Playtech have much, much more games on offer. But, contrary to Evolution, whose almost all games are available on both Android and iOS devices, Playtech's are not.
Playtech offers Blackjack, Baccarat, Roulette, Hi-Lo, and Dragon Tiger on all devices. Spin a Win is only available for Android users, while Casino Hold'em only for iOS users. And while Playtech has incredible desktop versions of Sic Bo and 3 Card Brag, these are unavailable on mobile devices. Evolution, on the other hand, doesn't offer 3 Card Brag, Sic Bo, Hi-Lo and Spin a Win at all. But, that's why it offers Dragon Tiger, Dream Catcher, Ultimate Texas Hold'em and Texas Hold'em Bonus Poker. Caribbean Stud, Casino Hold'em and 3 Card Poker are also available in addition to the classic Baccarat, Roulette and Blackjack. All these games are compatible with both iOS and Android-run devices, believe it or not.
Playing Live Casino on Mobile Devices FAQ