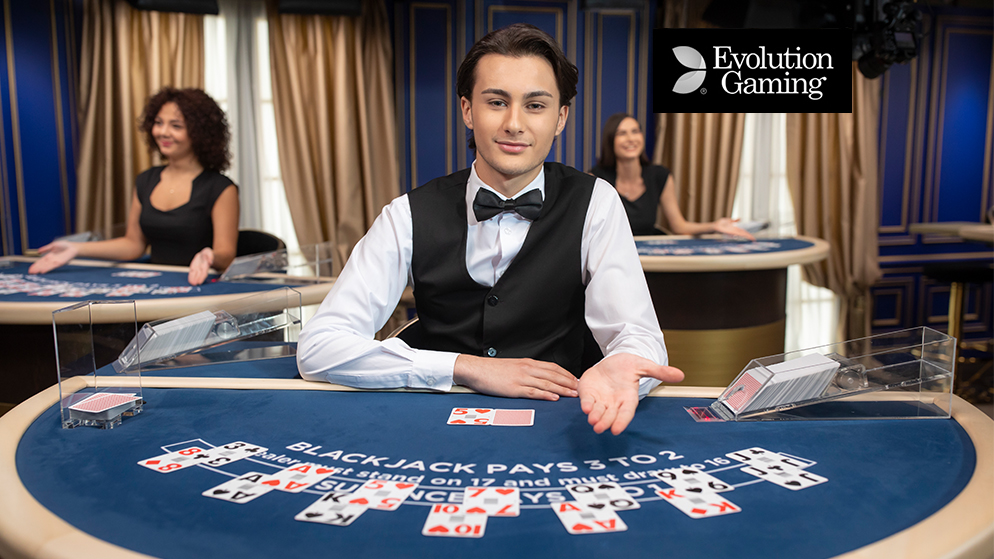 Evolution Gaming's Live Blackjack is the best Blackjack experience online without a doubt. With its 7 seats at the live table, 7 lucky players can enjoy the ultimate Blackjack experience available online. In addition, the unlimited number of allotted places for Bet Behind players allows virtually everyone to take part as well.
The game comes with supreme playability and great user interface. It also boasts a variety of optional and side bets which make betting on the game an absolute pleasure. Finally, the superb video quality, sound synchronization, and the experienced dealers make the game a true one of a kind.
Play Live Blackjack by Evolution Here:
How to Play Live Blackjack by Evolution
Live Blackjack is streamed live from Evolution Gaming's studios around Europe. It is on 24 hours a day, every day. It can easily be accessed via any device and this is another perk that often goes unnoticed. This means the game can be played from an iOS or Android device, as well as from a desktop computer.
One of the key features of all Live Casino games is the live dealer. In Live Blackjack, the live dealers are absolutely top notch. They conduct all games flawlessly and are really interesting to follow. In addition, they often find the time to interact with players via the live chat feature.
Finally, Live Blackjack as a top Evolution Gaming product is licensed and regulated by three very reputable regulatory bodies. These are the Maltese Gaming Authority, the UK Gambling Commission, and the Alderney Gambling Control Commission.
Game Features
Live Blackjack is one of the most popular casino games for a reason. Playing the game is both fun and easy. It is this simplicity that makes Live Blackjack one of Evolution Gaming's top products.
The first thing which a player should do is go to the live casino lobby and choose a Live Blackjack table. Always choose a table which will suit your budget. Wandering into a high roller's table by accident won't be a disaster, but it will lose you some time.
After a player has chosen his table, he will take one of the seven available seats. If there isn't a seat available, he can always use the Bet Behind option which is provided. Once the game starts, players are dealt their two cards and the dealer always stands on 17. If a player is on a Blackjack, he is paid 3 to 2.
What makes Live Blackjack different from other Blackjack games are the side bets it offers. These are the Perfect Pairs and the 21+3 side bets.
The Perfect Pairs side bet can be very rewarding to a player and can produce payouts as high as 25:1. The 21+3 side bet is even more lucrative and it ranges from 5:1 to 100:1. This side bet uses your first two cards and the dealer's face-up card. The side bets outcomes aren't connected to the outcome of the main game.
Video Performance​
The video quality is more than satisfactory as players can watch the live stream in High Definition. Players don't have the chance to enjoy multiple camera angles as there is only one camera focused on the table. However, this is more than enough and including more cameras would be counter intuitive to the nature of the game.
The nature of the game also stipulates that there has to be some computer generated elements. For example, where each of the seven players is seated there is computer generated imagery which is used. This includes their usernames, the bets they stake and the total card values they have in their hands.
This symbiosis of the live studio elements and CGI is done perfectly. In fact, players are rarely aware of the effort needed to achieve this. However, for Evolution Gaming this is just another day in the office.